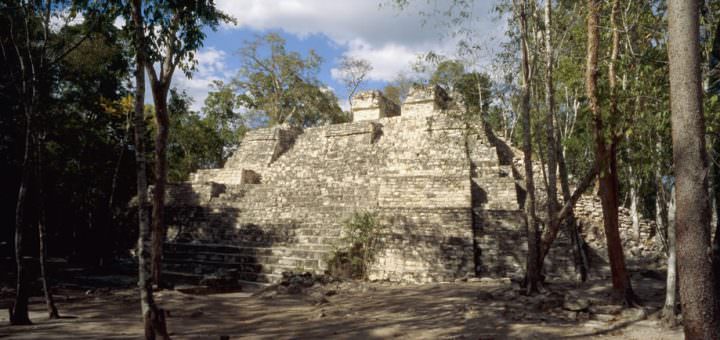 Visit ancient mayan ruins deep in the rainforests of Mexico, Belize, Guatemala, El Salvador and Honduras
Balamku
Balamku is a small Mayan archaeological site located in the Mexican state of Campeche.
Balamku is located 50 km (31 mi) north of the ruins of the great Maya city of Calakmul, approximately the same distance west of Becan, 60 km (37 mi) west of Xpujil and 12 km (7.5 mi) southeast of the ruins of Nadzca'an.
The ruins lie within an area referred to by archaeologists as the Campeche Petén, upon a poorly drained karstic plateau. The ruins are bordered on the east and west sides by seasonal swampland, known as bajos. The ruins are 3 km (1.9 mi) north of the highway running from Chetumal to Escárcega, near the Conhuas ejido.
The ruins fall within a zone that is poorly understood archaeology, to the west of the Río Bec stylistic region; the architectural style of Balamku has more in common with the Petén tradition to the south, although Río Bec influences are also evident.
"Balam" means guardian, protector, supernatural being (also jaguar) and "k'u" means temple.
It features elaborate plaster facades dating to the Early Classic period. It has one of the largest surviving stucco friezes in the Maya world. Its most important buildings date from AD 300–600. The most outstanding discovery so far at Balamku is an almost intact 16.8 metre (55 ft) long painted stucco frieze dating from AD 550–650.
Source: MexicanRoutes.com, a free Mexico online travel guide.
No ads, no registry, no subscription.
Mobile-friendly navigation.
MexicanRoutes.com is all you need in your Mexico travel.