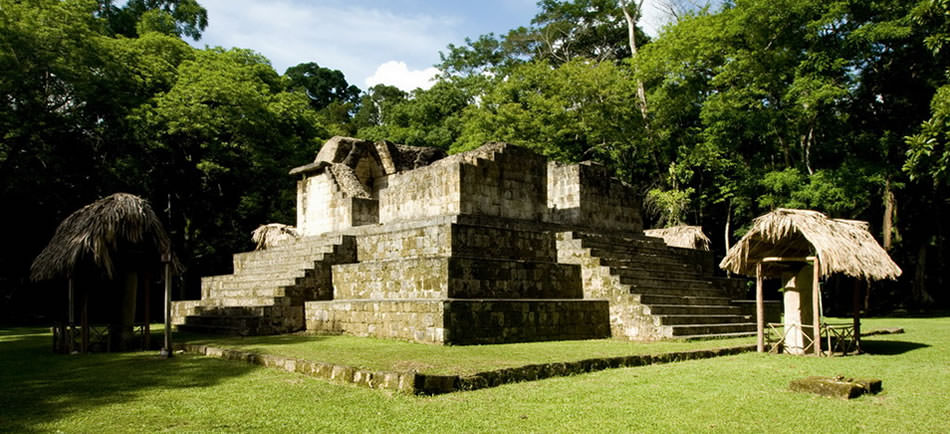 Visit ancient mayan ruins deep in the rainforests of Mexico, Belize, Guatemala, El Salvador and Honduras
Ceibal
Seibal known as El Ceibal in Spanish, is a Classic Period archaeological site of the Maya civilization located in the northern Petén Department of Guatemala. It was the largest city in the Pasión River region.
Seibal is a corruption of the Spanish word ceibal, meaning "place where many ceiba trees grow". El Ceibal was the name of a lumber camp near the ruins at the time of their discovery. The change in spelling originated with a publication by Teoberto Maler in 1908, which used a Germanic form with initial "s".
The site was occupied from the Preclassic Period through to the Terminal Classic, with a significant hiatus. The principal phase of occupation dates to the Late Preclassic (400 BC – AD 200), followed by a decline in the Early Classic (AD 200–600). Seibal experienced a significant recovery in the Terminal Classic immediately prior to its complete abandonment, reaching its second peak from about 830 to 890, with a population estimated at 8–10,000 people. The dates on the stelae at Seibal are unusually late, with monuments still being dedicated after the Classic Maya collapse had engulfed most of the Petén region. Many of Seibal's late monuments show artistic influence from central Mexico and from the Gulf Coast of Mexico.
The early history of the site is lost due to the catastrophic defeat of the polity in AD 735 by the nearby Petexbatun kingdom with its capital at Dos Pilas, resulting in the destruction of its earlier sculpted monuments. Seibal was reduced to being a vassal state until the destruction of the Petexbatun kingdom in the late 8th century AD. In AD 830 a new elite installed itself at the site with the arrival of Wat'ul Chatel from Ucanal to the east. This new arrival reinvigorated Seibal and allowed it to last to the dawn of the 10th century, well after the Classic Maya collapse had engulfed most of the region.
Source: MexicanRoutes.com, a free Mexico online travel guide.
No ads, no registry, no subscription.
Mobile-friendly navigation.
MexicanRoutes.com is all you need in your Mexico travel.