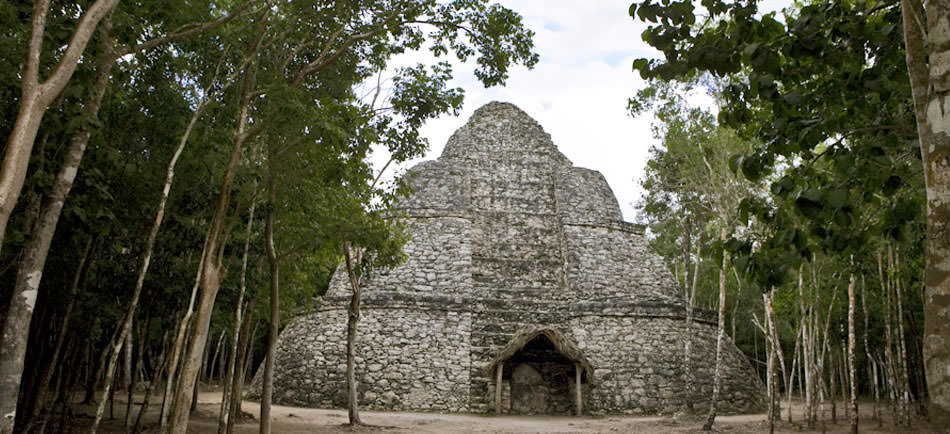 Visit ancient mayan ruins deep in the rainforests of Mexico, Belize, Guatemala, El Salvador and Honduras
Cobá
Coba is a large ruined city of the Pre-Columbian Maya civilization, located in the state of Quintana Roo, Mexico.
It is located about 90 kilometres (56 mi) east of the Maya site of Chichen Itza, about 40 kilometres (25 mi) west of the Caribbean Sea, and 44 kilometres (27 mi) northwest of the site of Tulum, with which it is connected by a modern road.
From the top of Coba's ancient pyramid, the jungle looks like a living green carpet.
Because Coba doesn't see as much tourism as places like Chichen Itza or Tulum, so you can actually still climb some of the structures for a totally different and unique perspective.
But there are many other reasons to visit the city of white roads.
Archaeologists believe the Mayan ruins of Coba were an incredibly important city for the Maya people. However, due to its remote location, the site is not as popular with tourists as other ruins in Mexico.
The adjacent modern village reported a population of 1,278 inhabitants in the 2010 Mexican federal census.
Source: MexicanRoutes.com, a free Mexico online travel guide.
No ads, no registry, no subscription.
Mobile-friendly navigation.
MexicanRoutes.com is all you need in your Mexico travel.