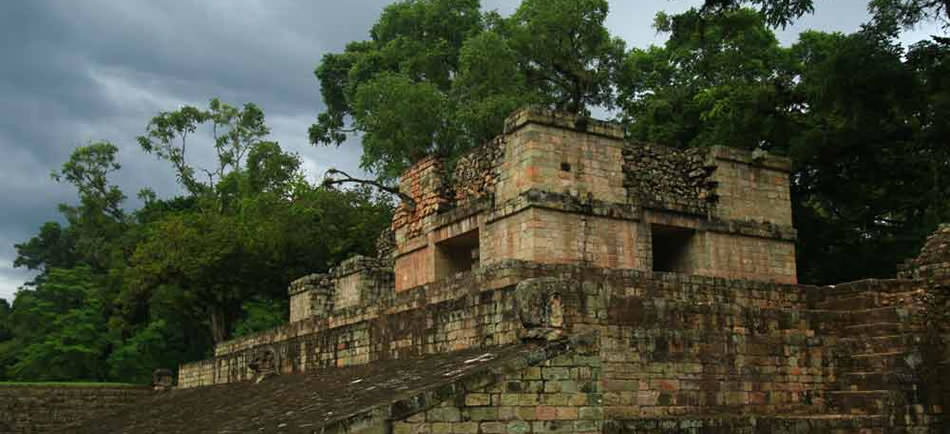 Visit ancient mayan ruins deep in the rainforests of Mexico, Belize, Guatemala, El Salvador and Honduras
Copán
Copán is an archaeological site of the Maya civilization located in the Copán Department of western Honduras, not far from the border with Guatemala. It was the capital city of a major Classic period kingdom from the 5th to 9th centuries AD. The city was located in the extreme southeast of the Mesoamerican cultural region, on the frontier with the Isthmo-Colombian cultural region, and was almost surrounded by non-Maya peoples. In this fertile valley now lies a city of about 3000, a small airport, and a winding road.
Copán was one of the great centers of Maya civilization over a thousand years ago. The beautiful ruins have some of the most impressive pre-Columbian art anywhere. Near the ruins is the modern town of nearly the same name – Copán Ruinas, with clean hotels and other facilities for visitors. Due to their proximity, both locations are covered by this article.
The ruins are quite substantial and a major tourist attraction in western Honduras. While less visited than the better known tourist attraction ruins like Chichen Itza, many people find them even more interesting.
Copán is in a fertile river valley and nestled among rolling hills, at an elevation so it is not so very hot as some of the Central American rainforest sites.
Copán was occupied for more than two thousand years, from the Early Preclassic period to the Postclassic. The city developed a distinctive sculptural style within the tradition of the lowland Maya, perhaps to emphasize the Maya ethnicity of the city's rulers.
The city has a historical record that spans the greater part of the Classic period and has been reconstructed in detail by archaeologists and epigraphers. Copán was a powerful city ruling a vast kingdom within the southern Maya area. The city suffered a major political disaster in AD 738 when Uaxaclajuun Ub'aah K'awiil, one of the greatest kings in Copán's dynastic history, was captured and executed by his former vassal, the king of Quiriguá. This unexpected defeat resulted in a 17-year hiatus at the city, during which time Copán may have been subject to Quiriguá in a reversal of fortunes.
A significant portion of the eastern side of the acropolis has been eroded away by the Copán River, although the river has since been diverted in order to protect the site from further damage.
It is thought likely that the ancient name of Copán was Oxwitik, meaning the "Three Witiks", although the meaning of the word witik itself remains obscure.
Source: MexicanRoutes.com, a free Mexico online travel guide.
No ads, no registry, no subscription.
Mobile-friendly navigation.
MexicanRoutes.com is all you need in your Mexico travel.