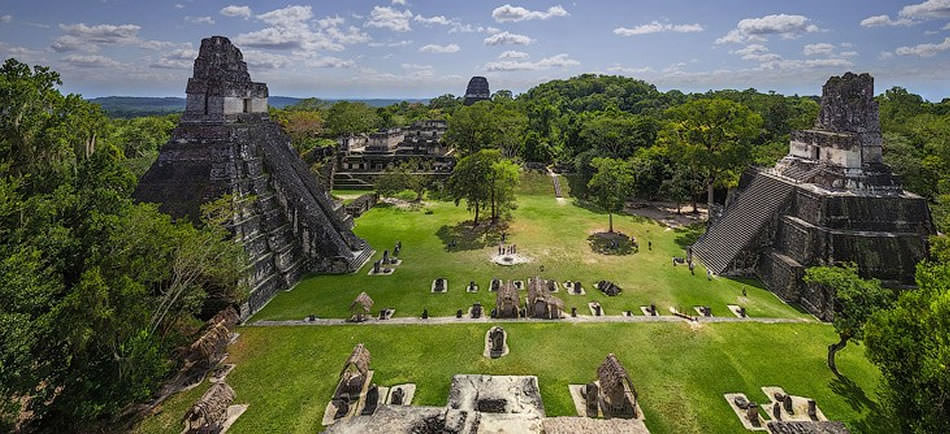 Visit ancient mayan ruins deep in the rainforests of Mexico, Belize, Guatemala, El Salvador and Honduras
Tikal
Tikal was a Maya city of great power and size, the largest of Maya cities during the "Classic Era" over 1000 years ago. During this time, the city dominated much of the Maya region politically, economically, and militarily. There is evidence that Tikal was conquered by Teotihuacan in the 4th century AD. Following the end of the Late Classic Period, no new major monuments were built at Tikal and there is evidence that elite palaces were burned. These events were coupled with a gradual population decline, culminating with the site's abandonment by the end of the 10th century.
Tikal is perhaps the most breathtaking because of the scattered impressive buildings which have been restored in an area with many more ruined buildings still enveloped by the jungle. The sight of the temples poking through the canopy is quite awesome. You can climb to the top of a few of the temples and get panoramic views from above the tree tops.
The name Tikal may be derived from "ti ak'al" in the Yucatec Maya language; it is said to be a relatively modern name meaning "at the waterhole". The name was apparently applied to one of the site's ancient reservoirs by hunters and travelers in the region. It has alternatively been interpreted as meaning "the place of the voices" in the Itza Maya language.
Tikal, however, is not the ancient name for the site but rather the name adopted shortly after its discovery in the 1840s. Hieroglyphic inscriptions at the ruins refer to the ancient city as Yax Mutal or Yax Mutul, meaning "First Mutal". Tikal may have come to have been called this because Dos Pilas also came to use the same emblem glyph; the rulers of the city presumably wanted to distinguish themselves as the first city to bear the name. The kingdom as a whole was simply called Mutul, which is the reading of the "hair bundle" emblem glyph seen in the accompanying photo. Its precise meaning remains obscure.
Source: MexicanRoutes.com, a free Mexico online travel guide.
No ads, no registry, no subscription.
Mobile-friendly navigation.
MexicanRoutes.com is all you need in your Mexico travel.