Joya de Cerén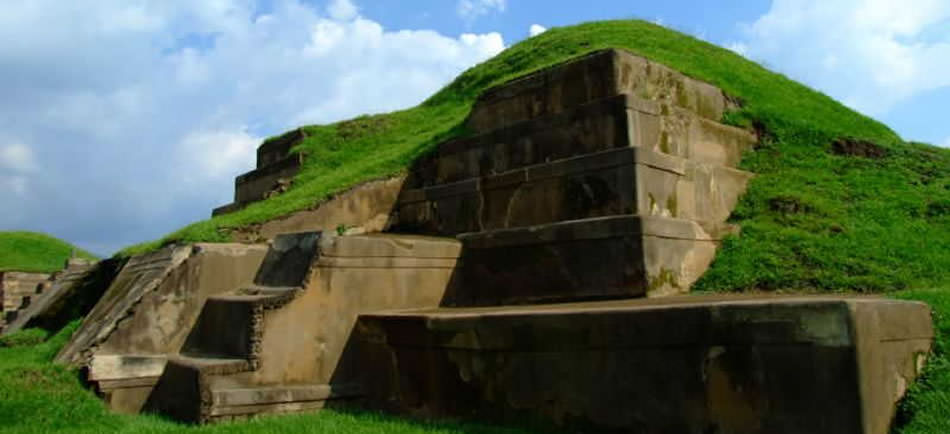 Joya de Cerén (Jewel of Cerén in the Spanish language) is an archaeological site in La Libertad Department, El Salvador, featuring a pre-Columbian Maya farming village preserved remarkably intact under layers of volcanic ash. It is often referred to as the "Pompeii of the Americas", in comparison to the famed Ancient Roman ruins.
Cerén was declared a UNESCO World Heritage Site in 1993.
A small farming community inhabited as early as 1200 BC, Cerén was on the southeast edge of the Maya cultural area. It was evacuated in AD 200 due to the eruption of the Ilopango volcano, and was repopulated no earlier than AD 400. It was, at the time of its final evacuation, a tributary to nearby San Andrés.
Around the year 590 another nearby volcano, Loma Caldera, erupted and buried the village under 14 layers of ash. The villagers were apparently able to flee in time – no bodies have been found – although they left behind utensils, ceramics, furniture, and even half-eaten food in their haste to escape. The site was remarkably well preserved due to the low temperature of ash and very fast ashfall, a 4-8 meter thick layer having blanketed the town in the space of a few hours.
The site was unwittingly discovered in 1976 by a bulldozer driver leveling ground for a government agricultural project. It was explored in depth by Payson Sheets, a professor of anthropology at the University of Colorado at Boulder, in 1978 and 1980, after which work at the site was interrupted by civil strife and warfare. Excavation resumed in 1988, and has been continuous since then. About 70 buildings have been uncovered, including storehouses, kitchens, living quarters, workshops, a religious structure, and a communal sauna.
Perhaps even more important than the buildings are paleoethnobotanical remains found at the site. The low temperature of the wet ash from Loma Caldera, as well as its rapid fall, ensured the preservation of much of the plant material. Of great importance was the discovery of manioc fields, the first time manioc cultivation had been found at a New World archaeological site. Although the manioc had long since decomposed, researchers created plaster casts by filling the resulting hollows in the ash. The farmers had planted the manioc "just hours" before the eruption.
Source: MexicanRoutes.com, a free Mexico online travel guide.
No ads, no registry, no subscription.
Mobile-friendly navigation.
MexicanRoutes.com is all you need in your Mexico travel.
---
Use these tags to read more related posts and reviews: